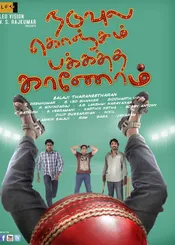 Naduvula Konjam Pakkatha Kaanom (2012)
2012 | 161 minutes
Ananda Vikatan Cinema Awards -
2012
Balaji Tharaneetharan
Best Debut Director
Naduvula Konjam Pakkatha Kaanom, also known as NKPK, is a 2012 Indian Tamil language psychological comedy thriller film and the directorial debut for Balaji Tharaneetharan. Featuring Vijay Sethupathi and Gayathrie Shankar in the lead roles.
The plot is based on a true story that involves a young man who experiences retrograde amnesia after a cricket incident two days before his wedding. The music and background score of the film are composed by Shankar and Siddarth Vippin respectively.
The film released on 30 November 2012 to widely positive reviews from critics. The film was a huge cult hit. It was remade in Telugu as Pusthakamlo Konni Pageelu Missing, in Kannada as Kwatley Satisha, in Malayalam as Medulla Oblangata, in Odia as Suna Pila Tike Screw Dhila and in Gujarati as Shu Thayu?.
---