Sathuranga Vettai is a 2014 Tamil heist thriller film written and directed by debutant H. Vinoth, starring Natraj and Ishaara Nair in the lead roles, while Ponvannan, Ilavarasu, and Piraisoodan, among others, play supporting roles. Produced by Manobala, it features music by Sean Roldan and cinematography by K. G. Venkatesh. The film, touted to be an "indianized con movie", was released by Thiruppathi Brothers Film Media on 18 July 2014 and received positive reviews from critics. A sequel is currently under development titled Sathuranga Vettai 2 starring Arvind Swamy and Trisha Krishnan. It has been remade in Telugu as Bluff Master and is being remade in Kannada as Jagath Khiladi.
Status

Released

Release date

18 Jul 2014

Running time

2h 25m

Genres

Crime, Thriller
Ananda Vikatan Cinema Awards -
2014
Best Film
Sathuranga Vettai Sequels
2014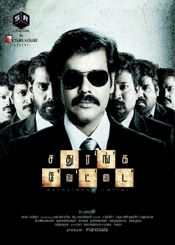 2020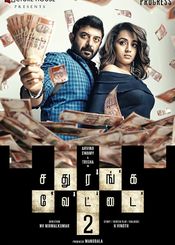 Gandhi Babu is a skilled con artist, who dreams of doing ingenious scams and executes them perfectly. His scams include selling ignorant people ordinary snakes, claiming that they are exotic and will fetch crores in the international market, promoting a nonexistent multilevel marketing company with its controversial chain referral schemes promising a BMW car within a year. His scams include duping people through impersonation – posing close to/claiming relationship with influential people, the convincing people of things such as Lilliput, exotic stones, and artifacts, last but not least the infamous Emu scam, where the investors were offered exorbitant returns through Emu farms. Bhanu is from a poor family, who comes to work for Gandhi and falls for his charms. Despite having a soft corner for her, Gandhi has money as his first priority. Because of this, he abandons Bhanu. Gandhi is arrested in a minor scam but the local police didn't realise his real identity. As the newspaper publishes this scam as a small box news of low importance, ACP Jaya Prakasham of Chennai Police identifies Gandhi and informs the local police and multiple cases are filed against him.
The cops subject him to torture and try to recover the money, but in vain. As the court releases him months later due to absence of solid evidence, his associates betray Gandhi and escape with the remaining money. An angered investor hires Valavan and his gang to recover his money and kill Gandhi Babu, The gang nabs him outside the court and is beaten to a pulp. Later he convinces them of making another con of worth a billion and pay them more than their hirer. Believing his abilities they kill and dispose their hirer and pull another scam to fuel a bigger one. He believes that if a person is foolish or greedy enough to be duped, then the person is to be blamed. He argues that every election voters are conned by the candidates who promise them the moon, but never come through. The next scam was nothing but a trap laid for gang by Gandhi Babu, he sends the gang to a his old scam's victim Chettiyar, knowing that they'll get caught as he's alert and will call the police due to his past experience. The gang gets arrested and angered by Gandhi Babu's betrayal. Meanwhile he moves back to Bhanu and she looks after him and they get married.
Later, Bhanu becomes pregnant. As the gang gets released they give Gandhi Babu a choice whether to pull a bigger scam and compensate their losses, or he and his wife get killed by them. Babu agrees to help them, The gang leaves Dravidan to keep an eye on pregnant Bhanu and leaves to Madurai to perform a final heist to hand over the money to them. They target Moovendhar, a rich and politically well-connected marble and granite businessman, they target him through the rice pulling scam, one of the high-profile scams during the times. They offer the artifact involved in the scam as a solution to his problems. As Moovendar agrees to the deal, the artifact is transferred after rituals and the gang receives ₹100 crore (US$13 million) as payment. The passage of money results in a tussle. Gandhi kills them and returns to his wife and child with the money. Finally, the look on her face makes him realize the value of life, and he leaves the money to the police custody.
Where to watch