Sandakozhi 2 is a 2018 Indian Tamil action film written and directed by N. Linguswamy. A sequel to Sandakozhi, the film features Vishal and Rajkiran reprising their roles from the first film, alongside Keerthy Suresh and Varalaxmi Sarathkumar in the lead roles. It also happens to be Vishal's 25th film. The film began production during September 2017 and was released on 18 October 2018.
Sandakozhi Sequels
2005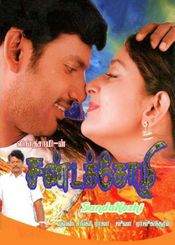 2018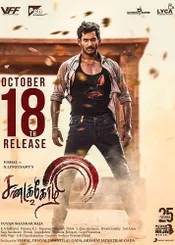 After the events following the first film, [N 1] Balu returns to Theni district after 7 years from USA to meet his family, where he learns about his distinct relative Pechankarasi "Pechi". Pechi's husband was killed by the villagers for killing a lower-caste person. Due to this, Pechi kills all the male clan of the lower-caste person, except for Anbu, who is safeguarded by Balu's chieftan father Durai. Balu learns that Pechi wants to disrupt the temple festival to kill Anbu, where he decide to protect him. During the temple festival, Balu secretly saves Anbu and thrashes the attackers without anyone's knowledge.
Balu meets Sembaruthi, whose activities reminds him of Hema. Sembaruthi learns from Durai that Balu relocated to US as Hema died in an accident on their way to Tirupathi for their marriage. Despite this, Balu falls for Sembaruthi, where Durai accepts their relationship. As per Durai's wishes, Anbu's UPSC attempt at becoming IAS becomes successful, where Durai and Anbu leave for Anbu's village to convey the result. Pechi's men attacks Anbu, but Durai accidentally gets stabbed. Balu rushes and saves Durai, who receives clandestine treatment in his home.
Durai requests Balu to not inform the incident to the villagers, as it would result in communal riots and would eventually spoil the temple festival. Balu promises the comatose Durai that he would save Anbu as well as ensure that the temple festival ends smoothly. Finally, Pechi and Balu meet in an open ground, where Pechi beats up Balu. Balu does not want to hurt Pechi and asks her to leave Anbu, for which she does not agree. When Pechi was about to kill Anbu with a sickle, her chain gets stuck in a Trishula, and she accidentally loses control. Her aruval moves towards her son's neck, but Balu holds the aruval and saves him. Pechi realizes her mistake and decides to spare Anbu. Durai recovers and reunites with Balu and Sembaruthi.
---