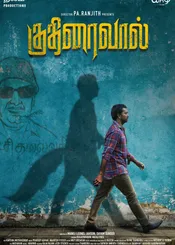 Kuthiraivaal also spelt as Kuthirai Vaal is a fantasy psychological thriller drama film written by G. Rajesh and co-directed by Manoj Leonel Jahson and Shyam Sunder on their directorial debuts. The film's background score has been composed by Martin Visser and the songs were composed by Pradeep Kumar. The film stars Kalaiyarasan, Anjali Patil, Sowmya Jaganmurthy, Anand Sami and Chetan in the lead roles.
The film consists of magical realism elements such as a man with a horse tail, a horse without a tail, and a sky with both sun and moon appearing simultaneously at the same time. The film is deemed as one of only a few Tamil films to have used the concept of magical realism besides Aalavandhan.
It became the first Indian film to have been nominated for international premiere at the Berlin critics film festival. The film is loosely inspired by Franz Kafka's novel The Metamorphosis.
The film was scheduled to be released in theatres on 4 March 2022,but got postponed to 18 March 2022. The film received mixed reviews from critics and the audience.
---