Kalakalappu Sequels
2012
2018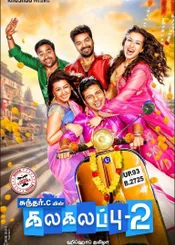 Seenu runs the Kumbakonam-based Masala Café, inherited from his forefathers. Masala Café was a famous food outlet a few decades back, but has lost its prominence later, and now Seenu finds it difficult to manage. The café's chef and his granddaughter Maya stay with Seenu.
Madhavi, the new health inspector, decides to permanently shut Masala Café due to its unhygienic environment. Seenu requests her to give him some time so he can make his hotel gain its prominence once again. Slowly, Seenu and Madhavi become good friends, and love blossoms between them.
Seenu's younger brother Raghu, a thief, gets released from prison. Seenu allows Raghu to stay with him as Raghu saves him from the moneylender 'Anjuvati Alagesan' (literally 'Five-interest Alagesan'), to whom Seenu owes money. Raghu falls in love with Maya at the first sight. Manickam, a jewellery owner, stages a drama to get money from insurance. Manickam sets fire to his jewellery showroom and tries to get the insured amount by claiming loss, although he has safely hidden precious diamonds in a mobile phone which is with his nephew Kumar. Kumar misses the mobile phone containing the diamonds, which later gets into Raghu's hands.
Dharamarajan, a cunning man, is the Kumbakonam police inspector and a childhood friend of Seenu. A real estate developer plans to demolish Masala Café and construct a mall over there due to its prime location. But Seenu is not ready to sell his property as he prefers to own it in the memory of his family members. Dharmarajan assures to convince Seenu and make him sell the hotel and he talks a deal with the real estate developer.
Seenu, Raghu, Madhavi, and Maya come up with a plan to introduce traditional healthy food menu in Masala Café, believing that will be liked by the present generation. Maya's grandfather gives tips about healthy ingredients, and Masala Café becomes popular again due to differentiated menu. Seenu earns more money from Masala Café.
Meanwhile, Madhavi's wedding is fixed with her relative Vettupuli in the village by her family. Seenu goes to Madhavi's village to stop the wedding and bring her back to Kumbakonam. After a series of events, Vettupuli learns about Seenu and Madhavi's love and decides to let them marry.
When Seenu is away, Dharmarajan plans to grab Masala Café as it is now managed only by Raghu, who is addicted to gambling. Dharmarajan calls Raghu for gambling, for which Raghu accepts. Dharamarajan tricks Raghu into gambling using his hotel documents. Raghu loses the game, and Dharmarajan takes over Masala Café. Seenu gets shocked knowing that Dharmarajan has betrayed them.
Manickam tracks down that the mobile phone containing diamonds is with Raghu and comes to kill him and take back the diamonds. But Seenu and Raghu get to know about the diamonds being hidden in the mobile phone only after Manickam comes. Seenu and Raghu escape from Manickam. Manickam kidnaps Maya and Madhavi and threatens Seenu and Raghu to give back the diamonds. A fight sequence follows where Seenu and Raghu beat Manickam. In the meantime, they also grab the hotel's documents from Dharmarajan. The police restore the diamonds and arrest Dharmarajan and Manickam. Seenu unites with Madhavi and Raghu with Maya.
---