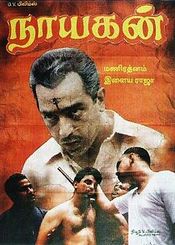 Nayakan (1987)
1987 | 135 minutes
National Film Awards -
1987
Kamal Haasan
Best Actor
National Film Awards -
1987
P. C. Sreeram
Best Cinematographer
National Film Awards -
1987
Thota Tharani
Best Art Direction
Nayakan is a 1987 Indian Tamil crime film written and directed by Mani Ratnam. Produced by Muktha Srinivasan, the film stars Kamal Haasan, Saranya (in her feature debut), and Karthika. Loosely based on the life of the Bombay underworld don Varadarajan Mudaliar and the American film The Godfather (1972), it revolves around the transformation of an ordinary slum dweller named Velu into a feared don through various stages of his life.
Cinematography was handled by P. C. Sreeram, and editing by B. Lenin and V. T. Vijayan. Principal photography began in late 1986, taking place primarily in Madras and to a lesser extent, Bombay.
Nayakan was released on 21 October 1987, Diwali day. The became a critical and commercial success, running for over 175 days in theatres. Kamal Haasan's performance earned him the National Film Award for Best Actor. The film also earned the National Awards for Best Cinematography (P. C. Sreeram) and Best Art Direction (Thota Tharani). It was included in TIME's "All-Time 100 Best Films", and CNN-News18's "100 greatest Indian films of all time". The film was remade in Hindi as Dayavan (1988).
---