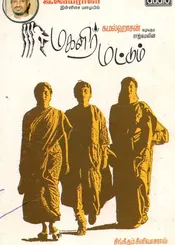 Magalir Mattum (1994)
1994 | 132 minutes
Magalir Mattum is a satirical film directed by Singeetam Srinivasa Rao, produced by Kamal Haasan, and written by Crazy Mohan. The film stars Nassar, Revathi, Urvashi, and Rohini. It revolves around three women deciding to gang up on their lecherous office boss who constantly harasses them.
Kamal Haasan wrote a story inspired by the American film 9 to 5 (1980) which Mohan then expanded into the screenplay of Magalir Mattum. The film was Thirunavukarasu's first as an independent cinematographer and P. N. Satish worked as the editor. Ilaiyaraaja composed the music while Vaali wrote the lyrics.
Magalir Mattum was released on 25 February 1994 and became a commercial success, running for over 175 days in theatres. For her performance, Urvashi won the Tamil Nadu State Film Award Special Prize for Best Actress. The film became a milestone in Tamil cinema for the topics it addressed, such as workplace harassment and the male gaze, and is regarded as an early example of the Me Too movement in India.
---
Singeetam Srinivasa Rao's Movies